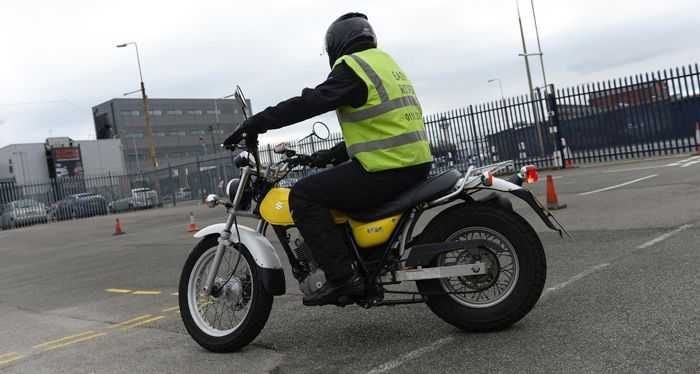 Ways to reduce your bike insurance: Training
Anyone who has ever looked for tips on how to reduce their motorbike insurance costs will have seen a tip concerning Advanced Rider Training.
According to lots of different comparison websites and insurance brokers (like us!), taking an Advanced Rider Training course can help you save money on your next bike insurance premium.
The reasons are obvious. After additional training riders should be better placed to cope with hazards, adverse conditions and general riding on the road, making them less of a risk for insurers to insure.
But do Advanced Rider Courses and Training always result in lower insurance premiums?
Take an approved Advanced Rider Course
Insurers don't offer discounts if you take any old rider training course, it has to be one of their approved courses.
Unfortunately there's no single list of courses that all insurance brokers will accept.
So if you're taking a rider training course with a view to saving money -- as well as improving your riding -- you should check with your insurer that the one you take is approved.
We've pulled together a list of five training courses that are approved by some insurers in the UK.
The Government backed one
The UK government has its own rider scheme, called the Enhanced Rider Scheme, which checks your skill levels and gives you training in the areas you need it.
It's made up of two parts for most people. The first involves a one to two hour ride on the road with an instructor who will evaluate your riding.
If the instructor thinks you're riding is fine, you'll be given a completion certificate then and there.
But if you've got a couple of areas where you need to improve, your instructor will advise you on what needs to be done and the further training required for you to receive your certificate and any insurance discount as a result.
The Institute of Advanced Motorists (IAM) is a leading safety organisation in the UK that focuses on improving road skills among UK motorists.
And with a remit like that, it's not a surprise that the IAM has its own advanced riding qualification.
For £149, riders can take the five-part course, covering information, position, speed, gears and acceleration.

The Royal Society for the Prevention of Accidents (RoSPA) offers an advanced rider training course that could help you reduce your bike insurance premium.
Volunteer groups around the country provide training on behalf of RoSPA for the cost of around £20, however after that, training sessions are generally free.
Once riders have received enough training, they can then take the advanced test which costs £56.00 for under 25s and £66 for riders aged 26 and over. Riders will receive a Bronze, Silver or Gold grade depending on how they perform during the test.
Riders need to take this test every three years for it to remain valid.
The British Motorcyclists Federation (BMF) is an organisation to help improve the life of the everyday motorcyclist.
It offers a Blue Riband Advanced Rider scheme that is recognised by some insurers and can help reduce your bike insurance premium.
The £250 course can be taken over one day or spread over multiple days before a final assessment for an extra £75.
With a name like BikeSafe, you'd expect some emphasis to be placed on rider safety, and BikeSafe doesn't disappoint.
BikeSafe is a project run by police forces across the UK and it offers training workshops that could help lower your motorbike insurance premium.

Will I always save money on my insurance after taking one of these courses?
As we mentioned before, it's your insurer who decides whether the training course you take results in a reduction in insurance.
We think you should do a rider safety course if you can, regardless of whether or not it saves you money on your insurance, but if saving money is the main reason behind doing the training, you should check first with your insurer.
It's also worth taking the cost of the course into account as well. A £300 training course may not result in £300 worth of savings on your insurance policy.
What about rider training courses that are not approved by insurers?
If a rider training course improves your riding and your safety as a knock on, then it's worth it, whether you save money on your insurance or not.
Improving your safety on the road is the primary reason behind the courses mentioned above and safety should be the primary reason behind you taking the course as well.