50cc Motorbike Insurance
Compare 50cc bike insurance quotes and get cover for your two-wheeler.
Perfect for bikers based in the city
Cost-effective coverage
Compare prices from over 30 top brokers now
What is 50cc bike insurance?
If you have a small engine moped or scooter, then 50cc motorbike insurance is likely essential for getting on the road. Purchase third-party only (TPO), third-party fire and theft (TPFT) or comprehensive coverage for your bike to help protect against unforeseen circumstances.
Despite having the smallest engine on UK roads, 50cc bikes are an excellent low-cost starter vehicle. They're popular with young people, commuters, and even delivery riders looking for an economical mode of transport.
Do I need 50cc bike insurance?
Yes, you need 50cc bike insurance if you want to drive a scooter or moped on UK roads. You can ride a 50cc scooter from the age of 16, so long as you do the following things:
Apply for and receive a provisional driver's licence
Take and pass the Compulsory Basic Training (CBT) test (you must re-take the CBT every two years until passing a moped or motorcycle test)
Display L-plates
Tax and insure your bike
What types of 50cc bike insurance are there? 
Third-party only 
TPO is the UK's minimum legal requirement for insurance. It helps provide cover for damage or injury to another person or their property if you cause an accident. However, you and your bike will not be covered, so you cannot claim with your Third Party Only 50cc insurance for damage to your bike or your property. A third-party-only policy also does not cover damage caused by theft or fire. 
Third-party, fire and theft
In addition to third-party only cover, a TPFT policy will also assist in providing cover if your bike is stolen or damaged by fire.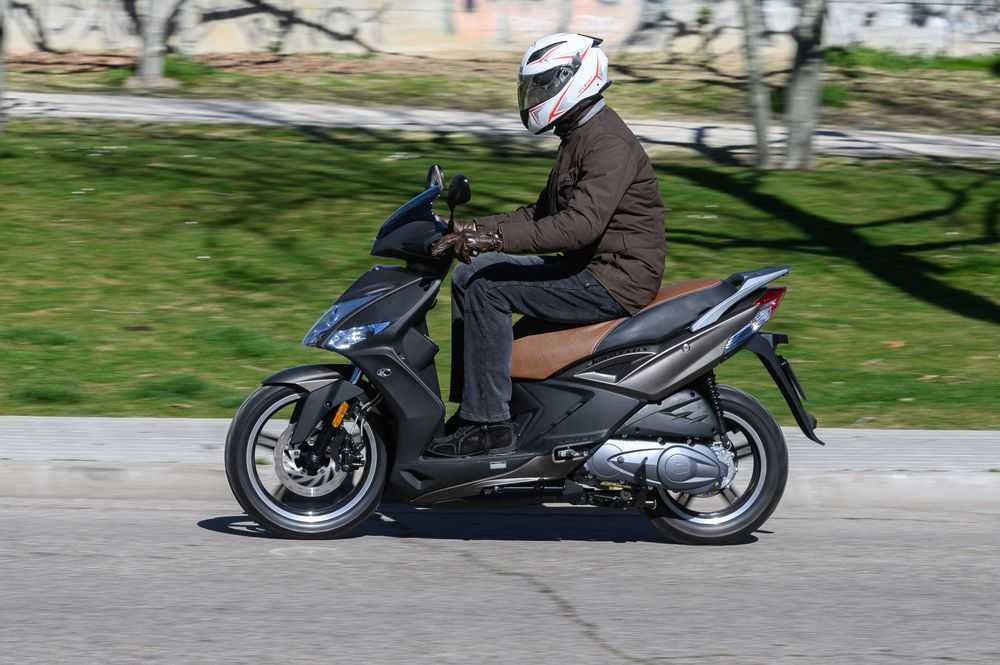 Comprehensive
Comprehensive 50cc motorbike insurance provides everything included under third-party fire and theft policy type, and will also help to provide cover if your bike is damaged or destroyed in an accident.
What add-ons are available for your policy?
Our quotation service will list the range of 50cc insurance quotes available to you, starting with the cheapest policy first.
These quotes are for the basic policy price only, so if you have a specific need for something extra on your insurance policy, there are a range of optional ad-ons that might be available from your insurance provider after you have received your quote from The Bike Insurer.
Some examples of these are listed below:
Breakdown cover
If your motorcycle breaks down, this add-on is designed to cover the cost of assistance. Depending on the circumstances, you could receive tow truck services or emergency roadside repairs. 
Legal expenses cover
If you're involved in an incident that results in a claim, this add-on can help cover some or even all of your legal expenses.
Protection for no-claims discount 
No-claims discount protection allows you to make a certain number of claims within a specified period without voiding your no-claims discount, but it's an add-on, so you'll need to pay for this protection.
Cover for personal injuries 
If you are involved in an accident that leads to a serious injury, permanent disability, or accidental death, this add-on may provide significant compensation.
How much does 50cc bike insurance cost?
50cc moped insurance is typically inexpensive compared to the cost of insurance for larger capacity motorbikes. However, there is no set price: how much you pay will depend on several factors, including your personal circumstances, previous driving history and the motorbike itself. Factors that affect the cost include:
Rider's age: Younger riders usually face higher insurance premiums. Due to their lack of experience, insurers consider them more of a risk and, therefore, more likely to make a claim.
Level of cover: The level of cover you choose could impact the price significantly. TPO 50cc bike insurance is sometimes cheaper, but not always, so it makes sense to get the best cover you can for your circumstances, which is not always the cheapest cover available.
Add-ons or extras: Purchasing policy add-ons will increase the cost of your insurance. Check your policy details to ensure you do not purchase unnecessary extras already included in your 50cc insurance.
Type of licence: Insurers consider riders with a full motorcycle licence to be more experienced as they've passed a full motorcycle test. By passing additional tests, such as advanced riders courses, you could lower the cost of your 50cc moped insurance premiums.
Driving record: You may be seen as a more reliable rider if you've been driving for a long time and have been involved in little or no accidents. New licence holders with previous claims in other vehicles may face higher 50cc insurance costs.
Bike make and model: 50cc motorbike insurance usually costs more for expensive bikes, such as race replicas or vintage bikes. They are more likely to be targeted by thieves and could be costly to repair in the event of an accident. Opting for a cheaper, less valuable bike may lower your premiums.
How can I reduce my insurance cost?
Although some circumstances cannot be changed, you can take steps to keep your 50cc insurance costs low.
50cc insurance on a provisional licence
Although you don't need a full driving licence to ride a 50cc machine, you still need valid 50cc moped insurance to ride on the UK's public highways. You can ride a 50cc motorbike indefinitely, even if you never plan to get a full motorcycle licence (assuming you pass your CBT test every two years, which of course you'll have to pay for!).
Although riding with a provisional licence is convenient, it does have limitations. Provisional riders must always display their learner plates, cannot drive on motorways, and are prohibited from carrying passengers. It's probably advantageous to get your full licence once you've purchased your bike.
Do I need insurance for a 50cc dirt bike?
If you ride your dirt bike on a public highway, even momentarily, without valid insurance then you will be breaking the law.
If your dirt bike will only ever be used on private property, then you don't need insurance, but remember that if you have an accident and damage yourself, your bike or someone else's property you won't have any insurance cover in place.
You can buy off-road insurance by calling the number at the top of this page. How to get an AM moped licence
The UK government lists three ways you can obtain a moped licence:
Route 1: Full car licence gained before 01/02/2001
If you obtained your full car licence before the 1st of February 2001, you can ride a 50cc bike without L plates under the following conditions:
You are over the age of 16

Your bike is below 4kW and no more than 50cc
Route 2: Full car licence gained after 01/02/2001
If you obtained your full car licence after the 1st of February 2001, and have also passed a CBT, you can drive a 50cc moped without the L-plates displayed and subject to the above power and engine size restrictions.
Route 3: Valid provisional driving licence
If you have a valid provisional driving licence and have passed the CBT test, you can ride a moped with L plates until the CBT expires. You can then go on to complete a two-part practical moped test if you have a valid theory test certificate.
Once you pass the two-part practical test, you can drive a moped without L-plates and carry pillion passengers. However, those who haven't passed their theory test must complete the first motorcycle exam before they can sit the two-part practical.
Why choose The Bike Insurer?
The Bike Insurer has provided UK riders with price comparison services since 2006. With affordable quotes from reputable insurers, we want to give you and your bike the best protection possible.
Our customers trust us to deliver outstanding service, and we'll always prioritise your needs. To receive insurance price comparison services for 50cc bike insurance over the phone, call 0330 022 7850 or simply complete our online form, it only takes about 5 minutes!
How to get a quote
Before receiving 50cc moped insurance quotes, we'll ask you several questions about your personal information, driving history, and what you're looking for. Prepare to be asked for information such as:
Your personal details, like name and address
Your employment status, licence type, and riding experience
Details of any additional rider(s)
The type of insurance you're looking for
Details of your motorbike